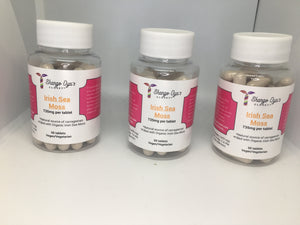 Shango Oya's Closet Inc
Irish Sea Moss (50 capsules)
Regular price
$45.00
$38.00
Unit price
per
Sea moss contains many vital nutrients that can improve digestion, increase metabolism, boost immunity and so much more. Some of those nutrients include bromine, sulfur, calcium, iodine, magnesium, phosphorus, phosphate, manganese, potassium, beta-carotene, selenium, protein, pectin, zinc, vitamin-C and B-vitamins. 
 Follow directions on the bottle 
***Advised to seek physician before use***
Notice:
The Shango Oya's Closet's content is for educational purposes only and should not be considered medical advice or a substitute for medical treatment. Please consult your medical care provider before using herbal medicine. Make certain of your identification prior to harvesting any plant or mushroom as ingestion, application, or other use of some plants and mushrooms may cause illness or death.
Imagine if you could be satisfied and content with your purchase. That can very much be your reality with the Irish Sea Moss (50 capsules).

Inventory Last Updated: Dec 02, 2023
---