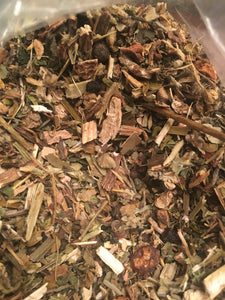 Shango Oya's Closet Inc
Asthma herbal blend
Regular price
$42.00
$0.00
Unit price
per
Have you suffered from lung failure or simply asthma gets the best of you? 🌿🌱🍃 This blend can possibly help or assist decrease symptoms.
☕️ Blend includes: Angelica, Black cohosh, cayenne, chaparral, cleavers, cramp bark, cubeb berry, coltsfoot, eucalyptus, licorice root, comfrey root, holy basil, elderberry, elder flower, lungwort, poke root, wild cherry bark, myrrh, red clover, sage, horehound, and flax ☕️
Directions: Take 1-2 tabespoons with 24 oz of water daily
***Advised to seek physician before use***
*****The Shango Oya's Closet's content is for educational purposes only and should not be considered medical advice or a substitute for medical treatment. Please consult your medical care provider before using herbal medicine. Make certain of your identification prior to harvesting any plant or mushroom as ingestion, application, or other use of some plants and mushrooms may cause illness or death.
On the fence about this Asthma herbal blend? Don't be. Let our satisfaction guarantee address your concerns.

Inventory Last Updated: Dec 02, 2023
---